Vacation Travel Stationery Downloads
Author: Wes | Filed under:
FREE Stationery
Wednesday Jul 23,2008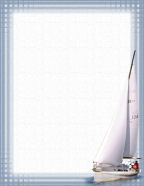 Kathy just finished loading the new FREE digital travel and vacation stationery downloads for you.
These ones have a boating or cruise theme to them.
You'll find that they are in PDF, MS Word template format and as a simple .JGP image that you can use to create your own stationeries and/or digital computer scrapbook page backgrounds with.
We'll be working on the Lion, Tiger, Cougar and BIG CAT stationery and scrapbook page backgrounds later today.  We'll see if we can get them posted for you before the weekend.
Hope you got a chance to see the BIG CAT photos we posted as an update to the Lion Loose Near Our Home article.  Kathy had a great birthday and totally loved being around the tigers, cougars, leapards, lions and other exotic animals that they had at the preserve.
Have a great journaling day…
Kathy and Wes
P.S.  Here's the link to the Travel Stationery Section for you:  Travel Stationery Downloads  The new stationeries are on Travel Page 2.
Last little note:
Do your TWITTER?
If so, you can keep up with what Kathy and I are up do off and on throughout the day by following www.twitter.com/scrapbooks
Support the Site... Buy Kathy a small Latte'
Comments